A Pub
When you walk Nelly's Irish Pub located on the corner of Kingman and Federal Street in St Albans you're not just visiting another restaurant, you're visiting an unique Irish Pub, without the expensive plane ticket to Ireland. With Irish & American food and beverage options it's a great destination for date night or a family evening out.
A Club
With regular events held throughout the month, Nelly's is definitely the happening spot to get your groove on. Live bands, renowned DJs, and holiday parties Nelly's is definitely the place to let your hair down and enjoy some awesome entertainment.
An Event Space
Not only is Nelly's an Irish Pub and a very cool club but they're also the go to spot for a party away from the office, or a smashing 40 or 50th celebration, maybe a seminar for the office, away from the office. Reach out to Shannon (Nelly's Owner) for more details about renting Nelly's event space.
Let's get technical!
Nelly's Irish Pub has a lot to offer, all of which I wanted to capture and share. The Nelly's stage has 6 automated stage lights, party lights, dark lights, and even sports a large screen TV for presentations, movies, etc. On the long wall they have a beautiful wood bar with polished top and great bar seating. To the back of the room you can escape some of the music and enjoy the dart board or swappable keg multi tap setup. If you've been dancing too much and need a break they have a lovely leather sofa and multiple booths along the wall. Dancing not your thing, or maybe need another break? Try out the pool table at the center of all the action.
Why do I sound like a commercial for Nelly's?... Well I wanted to make sure it's understood what needed to be captured at this great establishment. To control the lighting for events and activities in the club event space they have no natural light from windows. I made up for this with long exposures and mounting the cameras on tripods to cut down on movement and capture clean crisp images. I brought lighting along with me but ultimately decided against using it; in such a large space it would have been too specific to certain areas and I would have lost out on the opportunities of capturing the larger room and all it had to offer.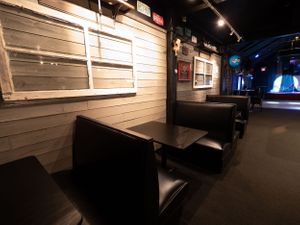 Thank you Shannon
Thank you Shannon, the owner of Nellys & La Casa Burrito, for the chance to photograph such a lovely space. I'd love to get down there for a few events to capture what this room is really meant for!
Interested in Event Space Photography
I would love the opportunity to photograph your event space. Whether you're setting up for weddings as a new space or are an established meeting venue please feel free to reach out. My rates are flexible and based on the size of the space, starting off at $199.
I offer a free consultation to better understand what and how you'd like to advertise the space/business. Making sure I maintain your business voice and feel through the images.